With Hanukkah just a couple of days away, we decided to post a recipe with a healthy twist to the classic Hanukkah Latkes (Potato Pancakes). Traditionally,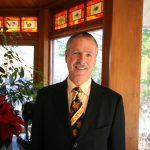 Latkes are made with potato, flour and eggs but we thought why not try a different take on the classic recipe. This week's recipe features AACI and Broker, David Hurst. David is an outstanding member of our team and has over 30 years of negotiating commercial, industrial and office real estate transactions. We hope that you enjoy this delicious recipe found below!
Gluten Free Carrot Scallion Latkes
Ingredients
3 cups shredded carrots
3 scallions, finely chopped
3 large eggs, whisked
½ teaspoon celtic sea salt
½ teaspoon coconut flour
olive oil for frying
Instructions
In a large bowl combine carrots, scallions and eggs
Stir salt and coconut flour into carrot mixture
In a large skillet heat oil
Scoop large tablespoonful's of batter onto skillet
Fry patties on each side over medium heat until browned and crispy
Transfer latkes to a paper towel lined plate
Repeat process until all of the batter is used up
Serve with applesauce and sour cream (or yogurt)
Recipe source: Elana's Pantry
Happy Hanukkah!