Oakville
1. Midnight Madness (July 14th 2017: 6pm to 11:30pm): Enjoy Downtown Oakville's largest retail event of the year, featuring food, live music, entertainment and lots of community spirit! With over six blocks of free family-friendly entertainment and brag-worthy deals available right through to midnight, this is an evening of excitement you won't want to miss! Shop, dine and enjoy all that Downtown Oakville has to offer.
2. Paint the Park (August 24th 2017:4pm to 8pm): Paint the Park is an outdoor painting challenge event that invites the community to paint the beauty found in Oakville's parks. More specifically; located at Bronte Heritage Waterfront Park. It is part of the Town of Oakville's Summer Cultural Connection. Bronte's Heritage Waterfront Park will host Bronte residents and visitors at this exciting event.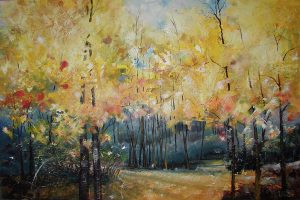 3. Movie in the Forest (August 25th 2017): Come to Forster Park for Movie in the Forest, a free outdoor movie event. This year's film is Beauty and the Beast! The show starts at 9 p.m. but arrive early for free popcorn and pre-show entertainment courtesy of Stage Coach Canada. Don't forget to bring a lawn chair or blanket, as well as a non-perishable food donation for the Oakville Fareshare Food Bank. A water station and bike rack will also be available.
Rain date is August 27th.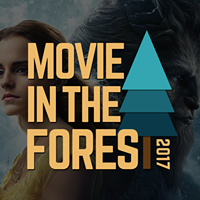 Toronto
1. Adelaide Eats (June 1 to July 28th) – For a third consecutive year, Adelaide Eats (formerly Front Street Foods), will return to the second floor terrace of Adelaide Place (150 York Street — at the corners of both Adelaide/University Avenue and Adelaide/York), to tempt the taste buds of thousands, with dishes and delicacies designed by Toronto's best chefs, restaurants, bakers, food entrepreneurs, and artisanal food makers. This year's market, presented by Toronto Market Company (TMCo.) and Dream Office REIT, will be open for the public to enjoy weekdays beginning June 1, 2017 to July 28, 2017; Monday through Wednesday: 11 a.m. to 3 p.m., and Thursday and Friday: 11 a.m. to 9 p.m.

Some of this year's vendors are: Cassia Northern Thai, District 28, Fish'd by EDO, Kaboom Chicken, The Kathi Roll Express, La Fiesta, Little Fin, Mikey's, Momofuku Noodle Bar, Tacos 101, Toben Food by Design, Wahlburgers.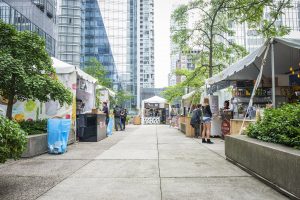 2. TBG Organic Farmer's Market (Toronto Botanical Garden, 777 Lawrence East) – The market takes place YEAR-ROUND on Thursdays, 2 to 7 p.m. (The market moves indoors during the winter), Choose the freshest, healthiest foods, and meet organic vendors in one of Toronto's most beautiful gardens. You'll find salad greens all winter, vegetables, delicious ready-to-eat foods, free-range eggs and chicken, grass-fed beef, pork, lamb and chevon, cheeses, yoghurt and kefir, maple syrup, jams, honey, all-natural personal care products, soaps and candles, dried fruits and nuts, olive oil, kombucha and kimchi, oils and vinegars, breads, tempting sweets and savouries, gluten-free baked goods, and organic VQA wines.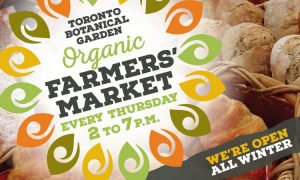 3. Toronto Bicycle Music Festival Sunset Series (July 18th, 2017) –  Enjoy hip hop, dancehall, house and popping masters Moon Runners dance battle at the kick off for the biweekly Toronto Bicycle Music Festival Sunset Series. Tuesday July 18th at Flemingdon Park. Depart 5:45 pm from Riverdale Park East. Bring a picnic dinner along with you to eat while you enjoy the show. This event is free but RSVP is required.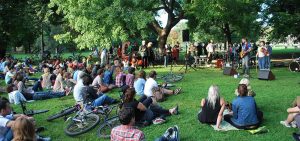 4. Kensington Flea Market (July 330th & August 27th 2017: 12pm to 7pm) Indie vendors offer artisanal, handmade goods, vintage clothing, records and up-cycled items during Pedestrian Sundays. Noon-7 pm. Free. 214 Augusta, rear courtyard. Also includes Kensington's famous art fair, where local artist and vendors can showcase their creative works of art.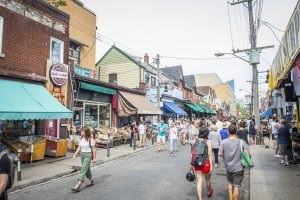 5. Taste of India Food Festival (August 5th 10am to 10pm, 2017) – Cooking demonstrations, celebrity chefs, competitions, games, music and cultural performances. Free admission.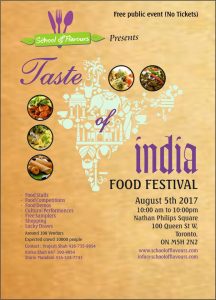 6. Nathan Philip's Square Farmer's Market (July 12th, 19th, 26th & August 2nd, 9th 2017: 8am to 2pm): Fruit & veg, meats, cheeses, pastries, preserves, breads, wines/ciders and more. Free admission.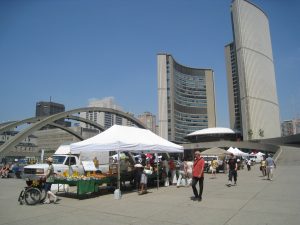 7. Taste of Regent Park under the Stars (Wednesdays until August 30th) – Fresh produce, local vendors, entertainment and a community catered meal each week, followed by a free movie under the stars. 5-10 pm. Free admission. Market starts at 5pm, and meal and movie at 6pm dusk, Wednesdays to Aug 30th. Presented by CRC and the Regent Park Film Festival.