Liberty Village has procured from the City of Toronto a commitment to build a 15 metre wide covered causeway over the Metrolinx/CN railway line.  This progressive thinking rockets Liberty Village forward in a quantum like leap in becoming a  tangible community of the future.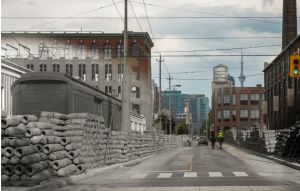 Liberty Village 1915 (left) to 2014 (right)
Will the Village be blessed with a future Metrolinx station to better serve the community & the city as a whole ? That remains the $20,000,000 question?
By acting positively about good public transport & it`s supporting infrastructure Toronto can truly move much closer to becoming a world class city.
May we extend a real "Tip of the Hat" to all those that are making this modestly avant garde concept a living reality.   Congratulations !
Check out the details of the Public Consultation: https://www.toronto.ca/community-people/get-involved/public-consultations/infrastructure-projects/king-liberty-bridge/