PRIDE EVENTS
Pride Month in Toronto is well underway with the city's top events happening this very weekend. It is a colourful time in Toronto where the LGBTQ community and their allies celebrate the diversity and inclusiveness of this city. Not sure what to do this weekend during the pride festivities? Below are some great options to give you an idea of what's going on and where you might like to join in on the festivities.
PRIDE AND REMEMBRANCE RUN
Saturday June 23rd at 10am. Starting and finishing at Church st. and Wellesley st. the run offers an opportunity to run on some of Toronto's normally busiest roads while taking in the gorgeous views of Queen's Park. Not much of an athlete but still want to participate in the fun? Instead of the 5km run you can opt for the 3km walk, or you can cheer your friends and family on at the finish line. Rainbow flags included! Over the past 23 years, the Pride and Remembrance Association has raised over $1.6 million for local charities that support the lesbian, gay, bisexual and transgender (LGBTQ+) community. This year, participants will raise money to benefit four Toronto Organizations: Women's College Hospital's Transition-Related Surgery Compassionate Fund; LGBT Youth Line's LGBT Youth Connect; Canadian Lesbian Gay Archives' Digital Hub Project; and The Pride and Remembrance Foundation.
38TH ANNUAL PRIDE PARADE
Sunday, June 24th at 2pm. The parade takes place from the corner of Church St and Bloor St all the way down Yonge St to Yonge-Dundas Square. Companies, organizations, and government bodies march in the parade to share their stories, show their support, and have fun! If you want to have a good spot to watch the parade from we suggest arriving two hours ahead of the start time as the Toronto Pride Parade is the most attended of its kind in North America. Be sure to bring lots of water and wear plenty of sun screen as the hot temperature and sun will be out.
FAMILY PRIDE AT CHURCH ST PUBLIC SCHOOL
To celebrate queer families, Pride events geared for those 12 years old and under will be taking place on the ground of Church Street Public School on Saturday and Sunday, including sports, crafts, face-painting and story time. Come out and play just off the Church Street festival while celebrating diversity and the future for LGBTQ+ parents, caregivers, and children.
STREET FAIR
Little stretches of Church, Wellesley and Alexander Sts. are going to be dedicated spaces for community shops and local organization. In between pride activities check out this area to do some shopping while supporting the LGBTQ community. Open both Saturday and Sunday starting at 12pm.
DYKE MARCH
Saturday June 23rd at 1pm. The Toronto Dyke March is a political demonstration of critical mass, welcoming all self-identified dykes to create political and visible space. This grassroots event is not a parade. This organization will reflect on their history, celebrate their accomplishments, learn from their past, honour where they've come from and lift voices that have been silenced and forgotten.
DRAG BALL
Saturday June 23rd at 6pm. Yonge-Dundas Square is going to be taken over by big wigs, high heels, fierce fashion and even fiercer performances as drag queens and kings take to the stage until 11 p.m. Featuring a special guest performance by Sydney Australia's drag DJ Kitty Glitter and a drag contest, you do not want to miss this event.
These are just a few of the many amazing pride events happening in the city this weekend. Make sure to have a look at Pride Toronto's website http://www.pridetoronto.com/ for even more information regarding what events are happening, and how you can get involved. Also make sure to look up road closures for the weekend as there will be quite a few to accommodate the much needed outdoor space. Have a safe Pride weekend and most importantly, have fun!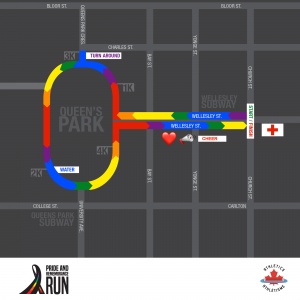 Route for the Pride and Remembrance Run Route ^