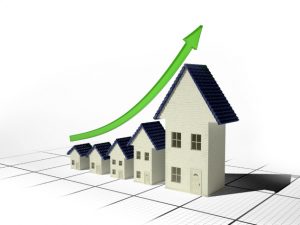 Will the lulling, bucolic days of August be the harbinger for the G.T.A housing market for the remainder of 2018 & 2019?
Metaphorically the Bank of Canada now sits between a rock and a hard place, regarding it`s predicament to raise rates or hold rates steady.
Domestic inflation is now greater > 3.2 %. Nearly 50% higher than their stated target.
The U.S. Federal Reserve continues to Morse code at least one more rate hikes before years end.
The real questions remains;  Can the Canadian government keep spiking the consumers fiscal punch bowl by holding the prime rate steady or will they move in defense of the Loonie.
This could be the start of numerous Damoclean compromises. We should all be vigilant because of the immediate and long term consequences.
Please feel free to contact any of our 3 offices if you have any Real Estate questions or Appraisal inquiries.
Check out this video:
Please also check out the following Globe & Mail Article. Although it doesn't reinforce our hypothesis, it does give an objective report on Real Estate numbers nationwide. Two slight up months after twelve successive down months (prices & volume). Our presumption is that some buyers are being drawn prematurely back into the marketplace.
Canadian home sales rise in July, led by GTA market
OTTAWA
THE CANADIAN PRESS
PUBLISHED AUGUST 15, 2018
The Canadian housing market is finding its footing after a prolonged stumble in the first half of the year, shaking off the impact of stricter mortgage rules, rising interest rates and provincial policy changes.
Home sales increased 1.9 per cent in July compared with June, according to the Canadian Real Estate Association. The bump-up marked the third consecutive month of recovery after an initial plunge in 2018.
"Essentially, stabilization in the Toronto region has been offset by a pullback in other areas, notably much of Western Canada," said BMO Financial Group chief economist Douglas Porter.
Greater Toronto Area sales climbed 7.7 per cent from June and 17.6 per cent year over year to lead the July increase.
More than half of all local housing markets reported more sales last month than in June.
Compared with a year ago, overall sales in July were down 1.3 per cent due to fewer transactions in major urban centres in British Columbia. The figure marked a levelling off of much steeper year-over-year declines earlier this year.
Analysts said an undersupply of new homes and buoyant consumer confidence amidst historically low unemployment and a stable economy were keeping year-over-year prices steady.
More stringent stress tests for would-be home buyers depressed sales numbers earlier this year, said Re/Max Integra executive vice-president Christopher Alexander.
"That cut out a lot of buying power out for first-time buyers and even move-up buyers," he said.
"Still, the stress test and all the news rules, it seems like buyers have kind of got their heads around it now."
Canada's Big Six banks all increased their benchmark fixed-rate mortgage rate in April or May.
"They've had nominal increases, which hasn't really scared anybody," Alexander said.
The rates differ from actual mortgage rates offered to borrowers, which are not seeing the same increases. But the Bank of Canada uses the posted five-year fixed mortgage rates at Canada's biggest banks to calculate the rate used in stress tests to determine whether borrowers can qualify for both uninsured and insured mortgages.
British Columbia and Ontario, which typically host the two hottest residential real estate markets, have introduced a foreign-buyers tax.
In July, Vancouver and the Fraser Valley saw sales dive 30 per cent and 34 per cent, respectively, year over year. Prices in both areas nudged up from the same month last year.
"A tougher borrowing climate and the non-resident buyers' tax likely rule out a return to the earlier mania in these two regions," said BMO Capital Markets senior economist Sal Gautieri of the greater Vancouver and Toronto areas.
Excluding those two markets, the national average home price was just under $383,000.