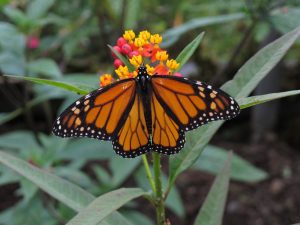 It comes as little surprise to discover that children of all ages throughout North America truly love our once ubiquitous and majestic monarch butterfly. Lately, one often asks through the last days of summer and early fall, where have all the flowers & butterflies gone?
Most of us will be very pleased to know that this year's winter census numbers come as a real bonus for Canada's eastern and central monarchs that reside in the Sierra Madre mountains of central Mexico.  The Monarch had their best numbers in over a decade!
Despite these encouraging numbers, experts remain concerned and remind all lovers of natural beauty that these improved populations are still 90% less than monarch populations of just 3 decades ago.
Conversely, the western monarchs winter census, which focuses on southern California & N/W Mexico, suffered a cataclysmic reversal. Their numbers have plummeted by more than 90% from last years census, which was already one of the lowest on record. What can be done that can accomplish immediate results ?
The farsightedness demonstrated by General Mills, initiating it's commendable program of free sunflower seeds in every Honey Nut Cheerios box.  This type of corporate thinking helps immediately address the drastic decline in our bee populations.
Pollinating bees have been plagued by many of the same scourges effecting the monarchs. Perhaps some other forward thinking conglomerate could start a similar program inclusive of milkweed seeds.
However as a community and a society we can do more than wait for big business to take action on behalf of our grandchildren.
School children of all ages could learn aspects of geography, biology, civic government, connective migratory routes and so much more, by spreading milkweed every fall along through our ravines, around our park fringes, along our creek and river courses. Principals and concerned teachers have a perfect opportunity to demonstrate how even the simplest of actions can create big changes.
Hopefully we can all collectively step forward ASAP, to prevent this intrepid traveler from joining the Smithsonian extinct gallery with the passenger pigeon.