Did you know that the first 2 recently reported cases of measles were recorded in Vancouver?
Perhaps running with the absurd conjecture that 'Toronto the brave' will somehow remain immune to the housing malaise now besieging utopic Vancouver seems nearly as improbable, as assuming that the 2 imported measles cases would not spread beyond the beach head of the lower mainland.
Just think of the endless possibilities, 2 sick kids travelling internationally by plane, accompanied by parents that were apparently confused over the merits of vaccination. What could go wrong???
North America now has the largest outbreak of measles in the last 50 years.
Now lets put this analogy into a short comparative analysis.
Canada is now  burdened with historically high levels of personal & corporate debt.
G.T.A housing affordability levels are encroaching on the unprecedented ratio of > 10.
Ubiquitous small condos are selling for $1,400 per sq. foot. throughout the G.T.A.
An 18 year old credit cycle is repeatedly flashing red hot warning signals.
The federal government has instituted a Financial Stress Test that is designed to shirk the burden of bad debts away from those that are too big to fail and unto the shoulders of John Q public.
A B.O.C that seems all to willing to collaterally turn our money into Peso's as a short term defense against trade skirmishes & job losses.
The ever escalating shuttering of construction sites, the expanding collapse of syndicated money funds (fortress), combined with large car & aviation plant closures. It should be noted that not everyone can work in the service industry or the government.
Financial survey after financial survey repeatedly indicates that nearly 50% of Canadians have less than $2,500 in savings. Many (40%) remain just $200 per month above financial delinquency.
One must ask,  #whatcouldgowrong ???
Please feel free to call anyone of our 4 offices for additional insight!
One question we should all be asking; If realtors were mandated by C.R.E.A/ O.R.E.A/ T.R.E.B or V.R.E.A to include an A.I.C appraisal as a condition with all offers, would the degree of housing volatility be more subdued?
The inevitable answer would be a huge affirmative yes!!!
Subsequently, the borrower (buyer), home owner (seller) & the lender would all be better served.
So why is this not being requested? Well the simple truth is, that the bank's losses are covered by C.M.H.C, subsequently we the tax payer.
See the Globe & Mail Article below:
Vancouver home sales slump to 24-year low as prices continue to fall
VANCOUVER
PUBLISHED MAY 2, 2019 UPDATED MAY 3, 2019
This single-family detached property located at 4063 West 28th Avenue, right, sold in mid-April for $3.4-million after being on the market for six months is seen in Vancouver, British Columbia, Thursday, May 2, 2019. The original asking price in October, 2018, was $4.5-million. Rafal Gerszak/The Globe and Mail
RAFAL GERSZAK
Housing sales in the Vancouver region slumped to a 24-year low and prices are off 8.5 per cent over the past year as the market downturn deepens.
The Real Estate Board of Greater Vancouver said on Thursday that there were 1,829 sales in April for various housing types in the region, down 29.1 per cent from the same month in 2018. The latest sales activity marked the lowest number of April transactions since 1,768 sales for that month in 1995. Last month's sales were 43.1 per cent under the 10-year average for April.
The benchmark price for detached homes, condos and townhouses dropped month over month for the 11th consecutive time, according to the board. The benchmark price, an industry representation of the typical home sold in an area, fell last month to $1,008,400 – the lowest in nearly two years.
Vancouver's cooler market is a key factor behind a lower risk assessment for the national housing sector issued Thursday. Canada Mortgage and Housing Corp. said it reduced its risk rating to "moderate" from "high," the first change since it raised its assessment in October, 2016.
Sales volume for detached houses, condos and townhomes
THE GLOBE AND MAIL, SOURCE: REAL ESTATE BOARD OF GREATER VANCOUVER
| | |
| --- | --- |
| year | sales |
| 2008-01-01 | 3218 |
| 2009-01-01 | 2963 |
| 2010-01-01 | 3512 |
| 2011-01-01 | 3225 |
| 2012-01-01 | 2799 |
| 2013-01-01 | 2627 |
| 2014-01-01 | 3050 |
| 2015-01-01 | 4179 |
| 2016-01-01 | 4781 |
| 2017-01-01 | 3553 |
| 2018-01-01 | 2579 |
| 2019-01-01 | 1829 |
CMHC noted the average national home price declined 5.4 per cent in the fourth quarter of 2018 compared with the same quarter a year earlier, after adjusting for inflation. CMHC lowered its assessment of price overvaluation in Vancouver to "moderate" from "high," though it kept its overall risk rating for Vancouver at "high".
The complexion of Vancouver's market has changed dramatically. Greater Vancouver's real estate market surged for most of the period from 2009 to 2017, but speculators have largely exited with prices continuing to fall in recent months, said Steve Pomeroy, senior fellow at Carleton University's Centre for Urban Research and Education. Reduced asking prices are now common in a region accustomed to bidding wars.
"In the past decade, we saw sales from foreign buyers or locals who wanted to flip properties," Mr. Pomeroy said in an interview. "To have a healthy market, we don't want housing as a commodity but where people can live."
The real estate industry blames government policies for the slowdown.
Federally, Canada's banking regulator implemented a stress-test policy on Jan. 1, 2018, that makes it tougher for buyers to qualify for mortgages. "The federal government's mortgage stress test has reduced buyers' purchasing power by about 20 per cent, which is causing people at the entry-level side of the market to struggle to secure financing," real estate board president Ashley Smith said in a statement.
The B.C. government raised the foreign-buyers tax to 20 per cent in February, 2018, while expanding that tax beyond the initial target of the Vancouver region. Other provincial factors include what the NDP calls a speculation and vacancy tax targeted primarily at out-of-province residents, and B.C. taxes aimed at higher-end properties.
The sale of a detached house in the Dunbar neighbourhood on Vancouver's west side underscores the price declines.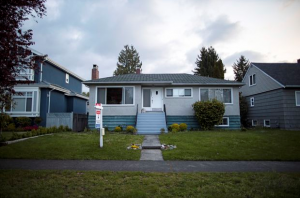 This single-family detached property located at 4063 West 28th Avenue sold in mid-April for $3.4-million after being on the market for six months is seen in Vancouver, British Columbia, Thursday, May 2, 2019. The original asking price in October, 2018, was $4.5-million. Rafal Gerszak/The Globe and Mail
RAFAL GERSZAK/THE GLOBE AND MAIL
The bungalow at 4063 West 28th Ave., built in 1952, sold in mid-April for $3.4-million, after being on the market for six months.
The original asking price last October was $4.5-million. The list price was reduced to $3,998,000 in November and dropped again to $3,898,000 in March, before it sold in April.
The assessed value was $4,393,400 in mid-2017, and $3,813,300 in mid-2018. Most of the assessment is land value since the house itself is considered a teardown. The listing agent promoted the idea of building a larger home on the lot that measures 52 feet in width by 130 feet in depth.
The benchmark price for detached properties sold on Vancouver's west side in April was $2,948,400, down 13.4 per cent from the same month last year.
Andrew Ramlo, vice-president of market intelligence at real estate firm Rennie Group, said housing prices at the higher end of the market have fallen the hardest.
Still, he said thousands of long-time homeowners aren't in any rush to sell, including baby boomers who have seen their children grow up and move away. "It's the empty-nester stage of the life cycle," Mr. Ramlo said in an interview, noting there has yet be a mass exodus of boomers moving out of their detached homes that have empty bedrooms.
But for owners who find themselves in a position where they need to sell, the buyer's market is a reality, he said.
In April, the average number of days on the market for detached houses in Greater Vancouver rose to 52 days, compared with 37 days in the same month of 2018.
In the Fraser Valley Real Estate Board's territory, which includes the sprawling suburb of Surrey, there were 1,383 sales on the Multiple Listing Service in April, down 19 per cent from a year earlier. The average price for detached houses sold in the Fraser Valley dipped to $991,756 last month, down 8.2 per cent compared with April, 2018.
Another Globe & Mail Article in the link below:
If house prices continue to drop, certain business will feel the pain.