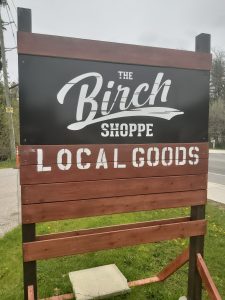 Many a renowned prophet has enunciated that the true measure of a civilization is measured by how every member is accorded dignity and grace. See the Orangeville citizen article detailing Birch Shoppe founder and catalyst, Carlo Summaria, discussing the possibility of initiating a Harvest Caledon program this spring, summer and fall.
Charismatic Carlo Summaria has improved the quality of life of many by launching the Birch Shoppe in south Palgrave at 17090 highway 50. It is located immediately north of Patterson Side road on the west side.
The Birch Shoppe hosts a well appointed farm store with a wide variety of goods suitable for all discerning tastes. On top of that, they collect, buy and sell local produce, managed and sponsored by volunteers from the White Birch Program.
Perhaps you realize your garden has too many cucumbers or tomatoes this summer. Call Carlo!
Or maybe you have ripe and mature pears, apples or cherries that needs picking. Call Carlo!
Fields of wild asparagus, meadow with fiddle heads, fence line full of raspberries are all no exception. Call Carlo!
We strongly recommend that you stop by for a visit to discover a fresh and unique experience. Best to remember that a smidgen of good karma comes from shopping local!
July 2021 Update. See the White Birch highlighted here: Caledon shop run with special needs adults evokes farmers market vibe