Afternoon Gentleman,
Congratulations are in order as it has finally started.
The prototype of the first identifiable road crossing; undoubtedly every citizen of the realm the uses the Caledon trail will be delighted.
Combine this with the work of many dedicated volunteers, numerous garden groups and of course, the new sponsored benches, the already popular Caledon trail continues to grow! Big Kudos all round! Special mention to Janice Reed for her incredible efforts to keep the area clean!
Please recall the cost of a few cans of paint.
Perhaps now is the time to consider placing Caledon's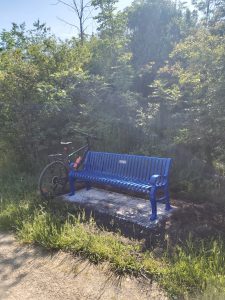 Famous reusable rubber speed bumps above and below the road crossings to ensure additional safety precautions. The crossing over Old Base Line is most notable as it remains one of the most contentious topics of discussion in the community. However, we can all agree that the value of saving one life will always remain immeasurable. The sooner something is done the better it will be.
Fortunately for all concerned, these long desired safety improvements fit seamlessly with the town council's latest proclamation!
Now that the latest lockdown is over, all of us at www.reappraisals.ca wish everyone and your loved ones a wonderful and safe summer.