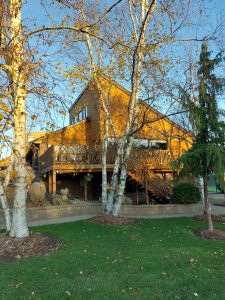 Charles Chaplin`s Modern Times epitomized the commoditization of big businesses in America.  The effused satire in this classic film is regrettably being replayed globally on a daily basis.
Fortunately, sometimes those that over strategize and encompass their own hubris, get their deserved comeuppance. Mr. Richard Barton, one of the founders of Zillow, is a good case in point.
Today in the USA, Zillow is the undisputed leader of so called "property porn".  It manages nearly 10 billion annual hits to it`s various web sites. It has semi- legitimatized the commoditization of real estate into an era of big data to be handled by the gnomes of Seattle or NYC.
Chief executive Rich Barton felt that this accumulated data could be transcribed to trade in property.  This would be particularly true during the roaring real estate market of the last 1/2 dozen years.
Sophisticated algorithms would further supplant home appraisers.  This haughty theory would then allow Zillow to generate an additional $20 billion in annual revenue, through its new sub-corporation, I-Buying. The concept was that I-Buying would purchase your home from numbers provided by their Algorithm and flip the home making $10,000 of thousands per unit.
His hubris resulted in him forgetting the momentous Golden Rule, Mother Knows Best. The interest of the homeowner should always supersede all other fiduciary obligations. Belatedly, as Barton conceded, "The capital intensive nature of the house flipping business meant that the unit had high likelihood at some point of putting a whole company at risk.  Relying on subtracted reams of data versus basing the property value on the work of an accredited professional appraiser, demonstrated the limit of "Big Data in Property Evaluation"."
Perhaps this cataclysmic denunciation of data porn will for the moment allow the last of the independent Fee Appraisers, no immediate need to turn off the light when leaving the building.
We extend our appreciation to Mr. Chaplin but especially to Pan Kwan Yuk  (
pan.yuk@ft.com
) for a most thought provoking article.
If there any inquiries, please call or email anyone of our offices at your convenience.