Fire & Ice Winter Festival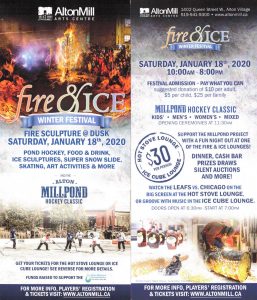 If you are looking for an exciting upcoming event in the Caledon area, look no further! While most of us are certainly anxious to put this cold weather behind us and dive head-first into Summer, why not try to make the best of a Winter Saturday? This upcoming Saturday, January 18th, the Alton Mill Arts Centre will be hosting the Fire & Ice Winter Festival! Bring your friends and family, and enjoy a day of fun and food!
We hope to see you there!